Korean simultaneous interpreters Germany
Contact: Ms. Birgit Klyssek
Telephone: +49 (0)176 88 22 34 49
E-Mail: info@bktranslation.de
Korean simultaneous interpreters Germany
You will find our Korean simultaneous interpreting service all over Germany Europe United Kingdom Asia Singapore Austria Switzerland Netherlands Poland Czech Republic Spain. Furthermore, we provide audiovisual equipment worldwide and on site. It is worth mentioning that most of us have a M.A. degree in conference interpreting beside a minimum of ten years experience in booth to ensure excellence.  
Where we provide Korean simultaneous interpreting service in Germany
In order to cover our Senior Korean simultaneous, consecutive and remote interpreting service for events or trainings in Germany, our central geographical sites are Frankfurt, Düsseldorf and Berlin.
Contact us for Korean German simultaneous interpreters or Korean English consecutive interpreting service. Additionally, we provide audiovisual and technical equipment as well. Operating from Frankfurt am Main / Eschborn, Germany, we make things happen in the best and the most efficient way. Trusting in our Korean interpreting service means mainly for you to have at hand a high-level service for your successful event, conference, congress or training. 

Conference interpreting service Korean German, Korean English, Korean French and last but least Korean Italian
When holding conferences and congresses or symposia in different areas like medicine, healthcare or life science, Korean English French simultaneous interpreters specialized in medicine and biology are needed. That means, we cover your needs for Korean conference interpreters with outstanding expertise. Therefore, many of our long-term clients from science and investigation from Germany, Austria, Switzerland, Belgium, France and Korea come back to us to repeat successful experiences. 

In the same way, companies cherrish our Korean German English conference interpreting service Frankfurt Germany, France or Singapore for international meetings, award ceremonies and trainings. That's because we ensure taylor-made simultaneous interpreting services for Korean companies with important representation in Europe.
At meetings and conferences, Korean-English-German interpreters are in great demand in numerous specialist areas, especially in medicine. Successfully we have been catering to the demand for English-Korean interpreters for our clients from science and research in Germany, Austria, Belgium and France for many years. In particular, Korean interpreters are in great demand for South Korean battery manufacturers, Korean companies in the fields of technology, steel, automobiles, automotive suppliers, shipbuilding, shipping companies, telecommunications, oil and gas, chemicals and software.
Korean simultaneous interpreters in culture and arts
Our Korean interpreting service, BK Translation, is an experienced provider for Korean simultaneous interpreting into German, English or French and viceversa with a wide competence in Korean art, media, fashion, cosmetics and culture. This makes it easy to cover specific areas.
Korean German English interpreting service for fairs

Our Korean German English simultaneous interpreting team Frankfurt Düsseldorf Hannover feels as happy as a lark during medical or technical conferences organized by pharmaceutical companies, laboratories, Korean enterprises for cosmetics or beauty surgery. Are you going to attend fairs in Germany, Austria or Switzerland and will need interpreting service? Are you planning an event with Korean in Germany and Europe? In that case you can trust us as your partner for successful execution.
There are high-quality suppliers from Korea who are looking for customers in the German-speaking markets and would like to present their products to potential customers at trade fairs with the help of our expert Korean German English interpreters. By means of our Korean German English interpreting service in Düsseldorf Frankfurt Hamburg Berlin, we get to the heart of the concerns of companies from Korea.
Korean interpreters for industry and plants
Also, we translate Korean for companies with production facilities in Germany and throughout Europe for training courses, maintenance and installation work as well as plant tours. No matter where an experienced interpreter or simultaneous interpreter is needed in the plant, company or business. We support plenty of Korean companies, that export into other countries requiring Korean German English interpreters during presentation and implementation of new technology, installations or busses as well as lorries.
Korean interpreters for market launches and presentations
Especially, we support companies from Korea with their market launch and presentation at trade fairs thanks to our Korean consecutive interpreters. Are you looking for Korean German English interpreters for meetings with governments, ministries and funding applications for professional oral translation? Simply enquire with us and find simple answers. During your international negotiations and trainings with Korea, our team of Korean simultaneous interpreters in Frankfurt Germany France is ready to assist you.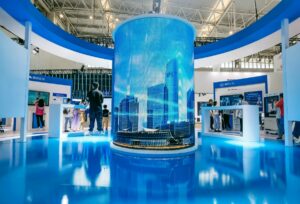 Do you have any questions, need further information or an offer?
Contact us, we will be happy to advise you and are available for you under the following contact details:
Contact: Ms. Birgit Klyssek
Telephone: +49 (0)176 88 22 34 49
E-Mail: info@bktranslation.de